The A Loft is a 
flexible and multipurpose space
dedicated to a variety of teen programming under Ronald McDonald House (RMHC) in New York City. The converted space will provide a
welcoming and safe environment for teen-to-teen interaction
 through innovative wall features and amenities that can maximize the given real estate.
***
To convert a Human Resources staff office space to a teenspace dedicated to teen programming and opportunities while addressing their physical and emotional needs.
Health and Healing |August 2021 - October 2021 | Codesigned with Annabelle Davy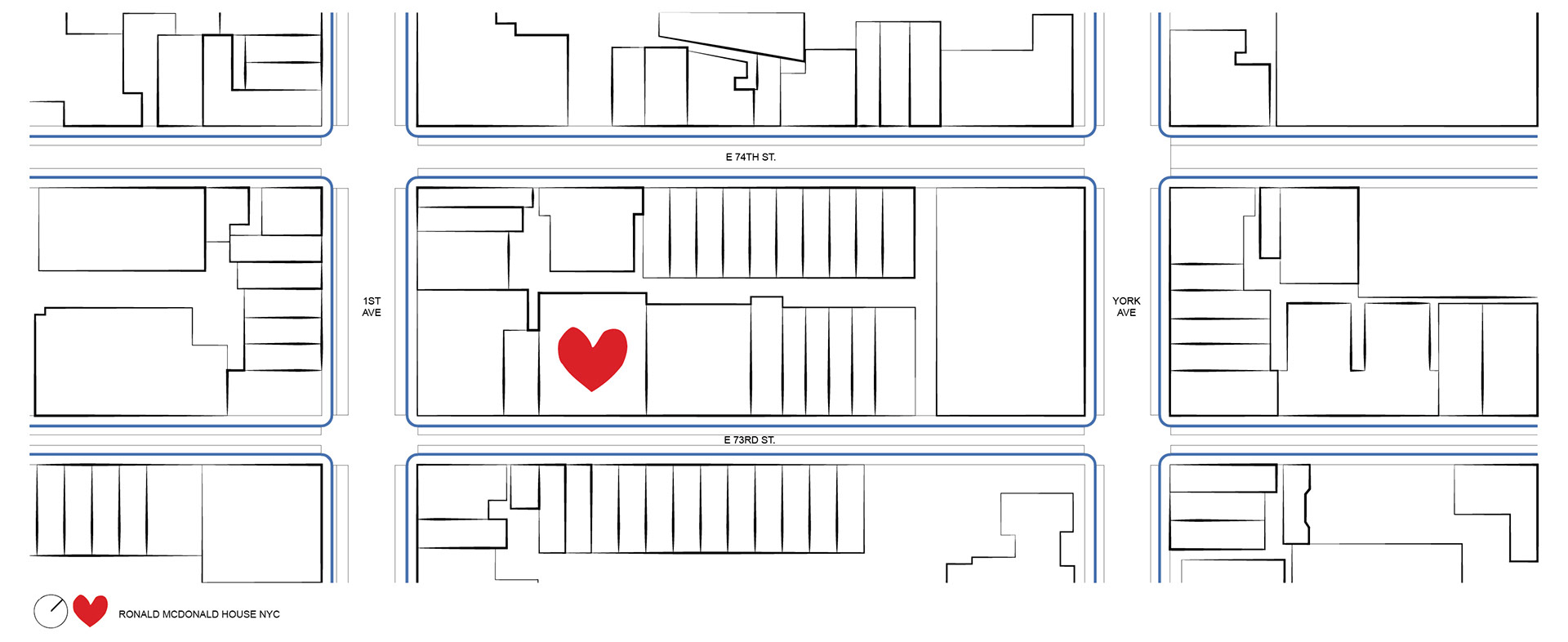 SITE MISSION:
East 73rd Street, Manhattan, New York
RMHC's mission is to
"create, find, and support programs that directly improve the health and well-being of children and their families."
RMHC in New York specifically supports a strong and supportive environment for pediatric cancer patients and their families through temporary housing. Their values are to
encourage and nurture the development of peer support systems
. Located on the East side of Manhattan, RMHC is in close proximity to major hospital systems with location-specific support programs to create a safe and welcoming environment for patients and their families.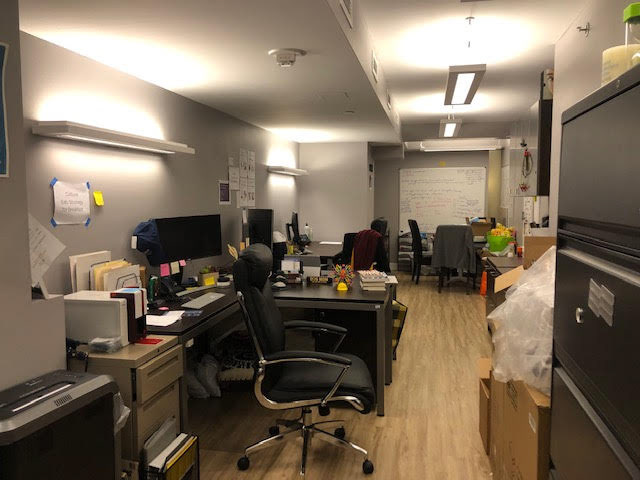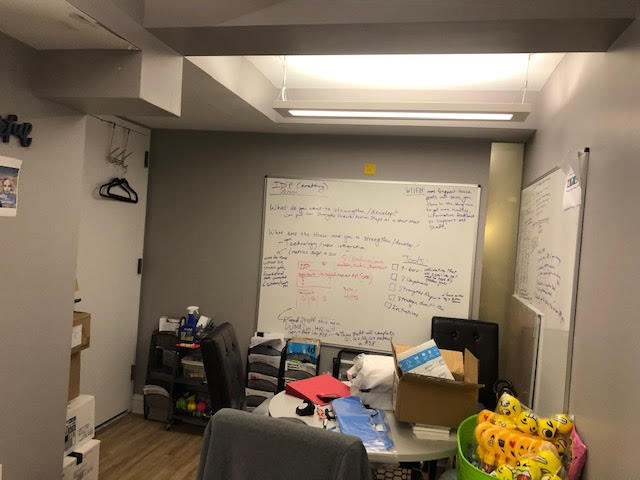 Existing Conditions (Pictured Above)
The space is currently under utilized as a Human Resources staff office space. RMHC plans on relocating the offices to a lower level and dedicating this space on the fourth floor to teens.
Based on a family and staff member, we highlighted each user's potential needs, desires, and frustrations in the space. This informed the programming of the space moving forward to address each user's
pain points and opportunities in the proposed space
.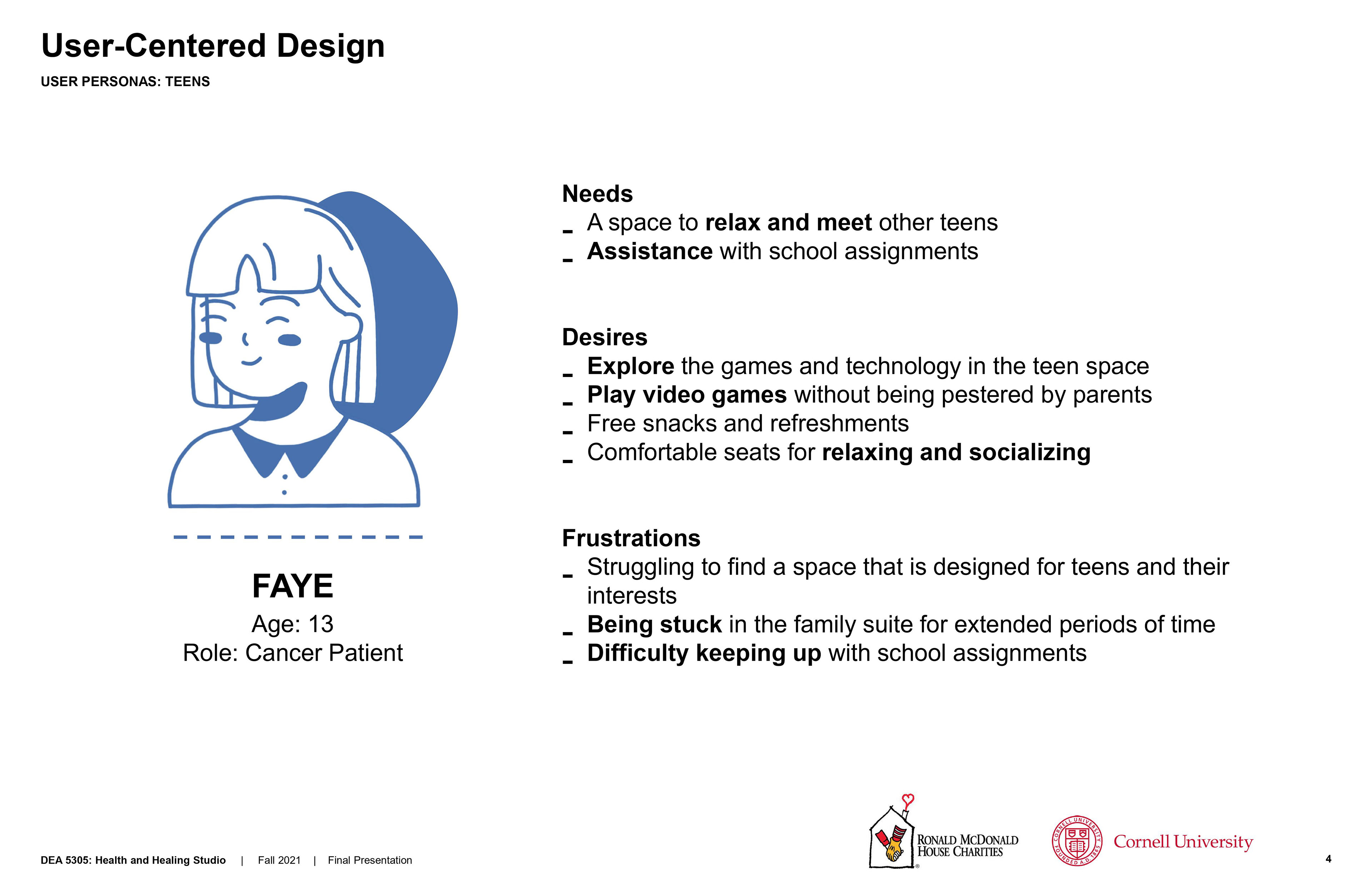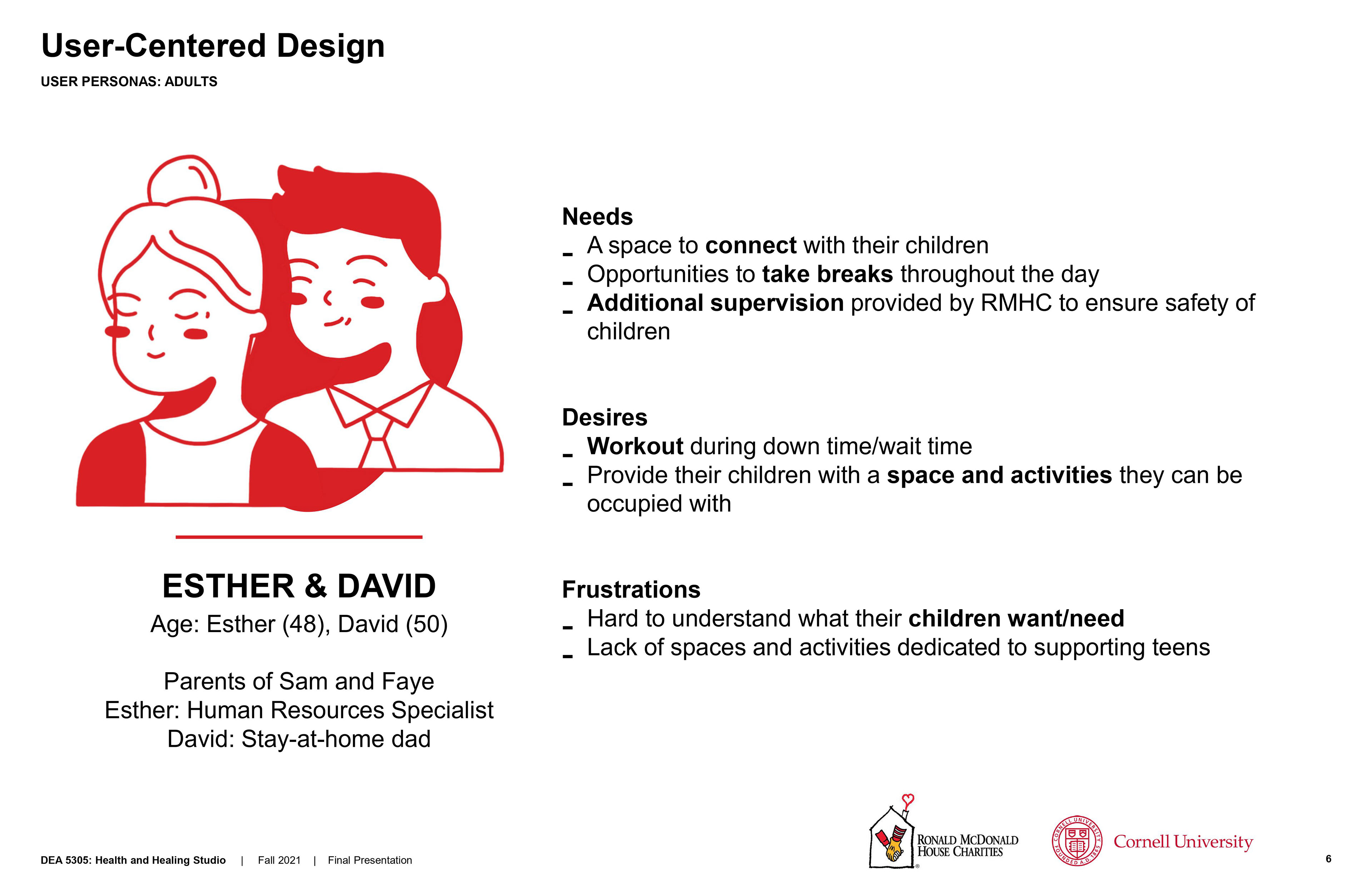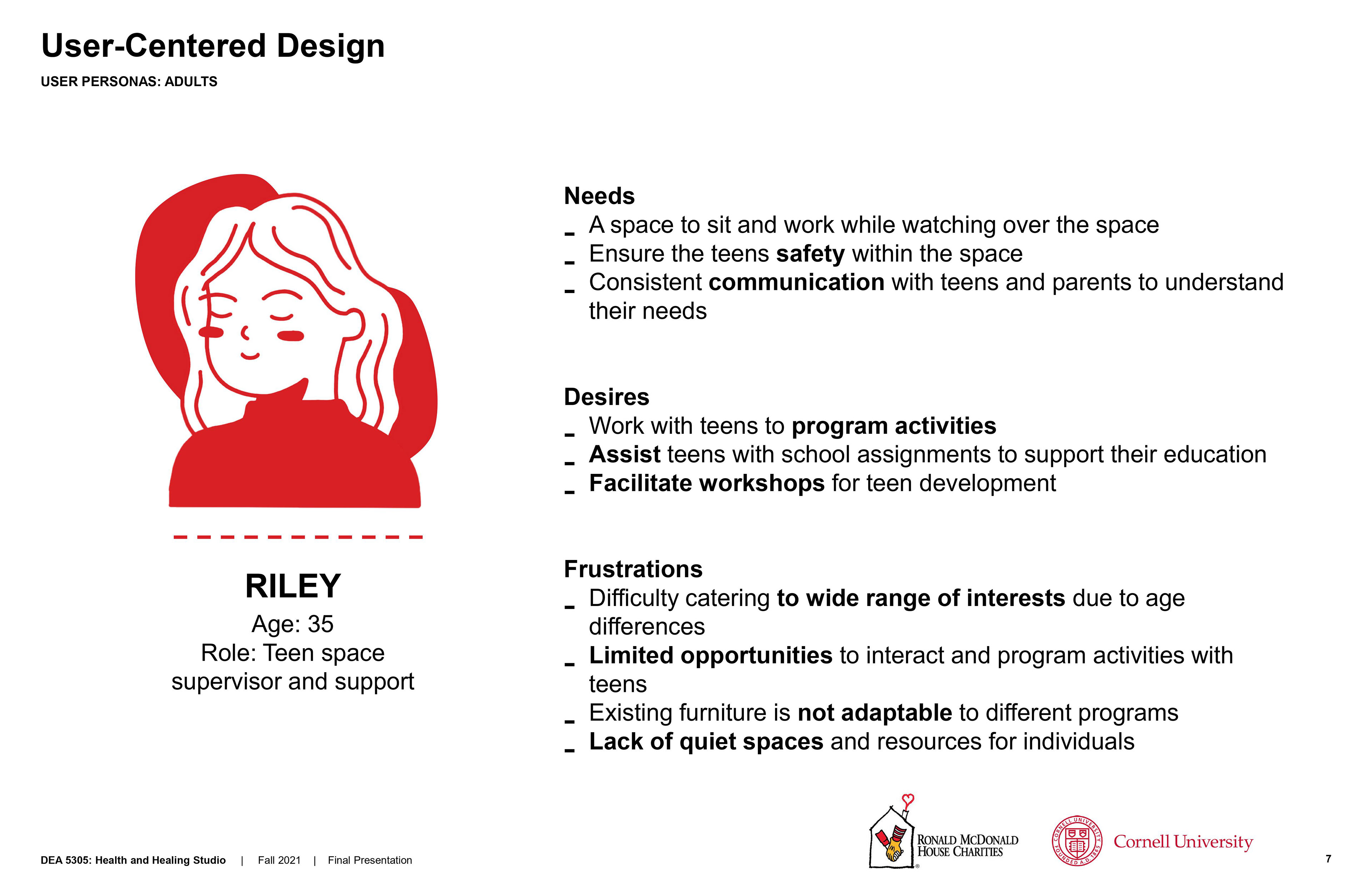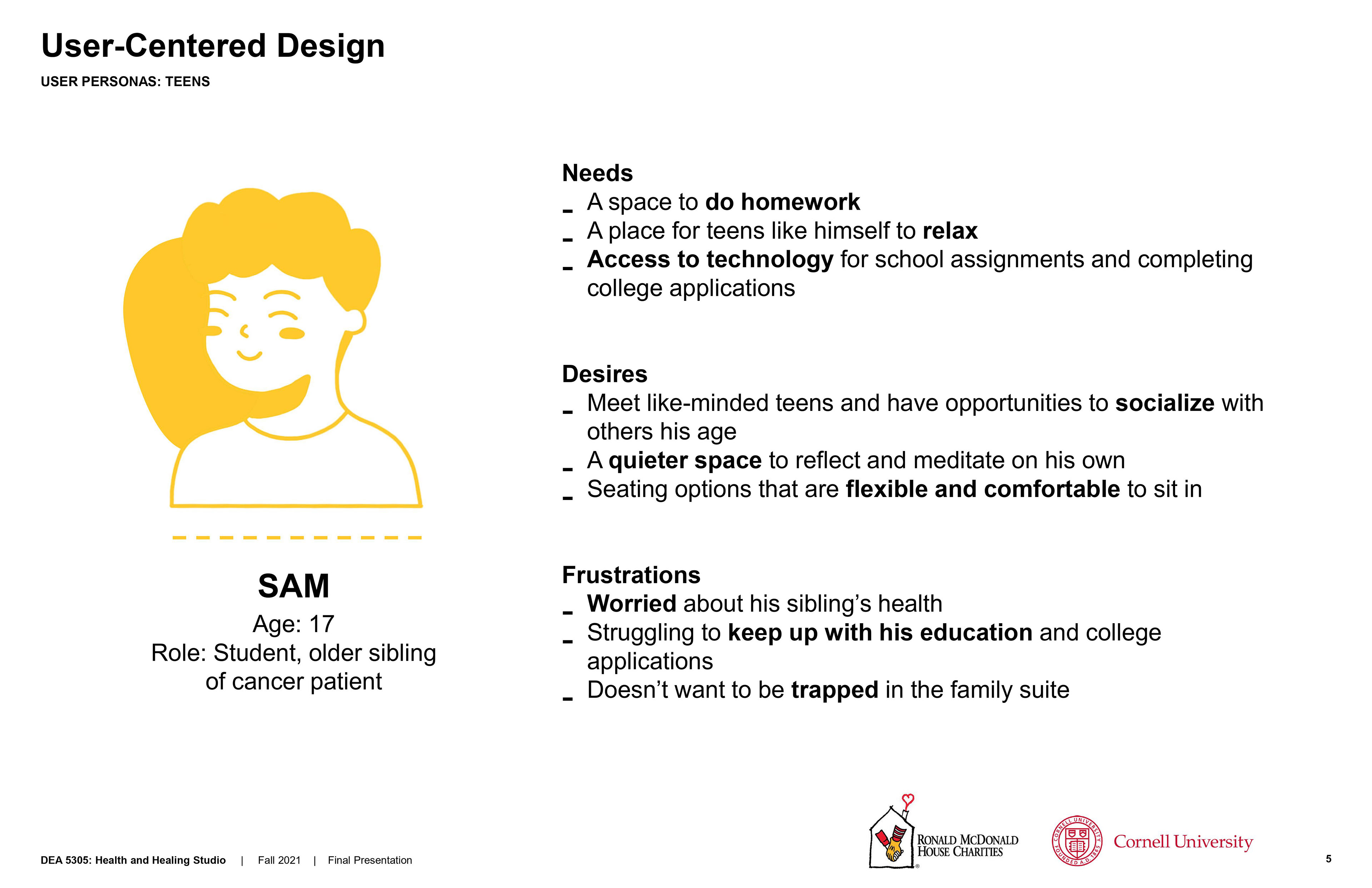 The design intent is to program a
welcoming space and community for teenagers to mindfully interact with peers
, further promoting a positive healthcare experience for all.
​​​​​​​​​​​​​​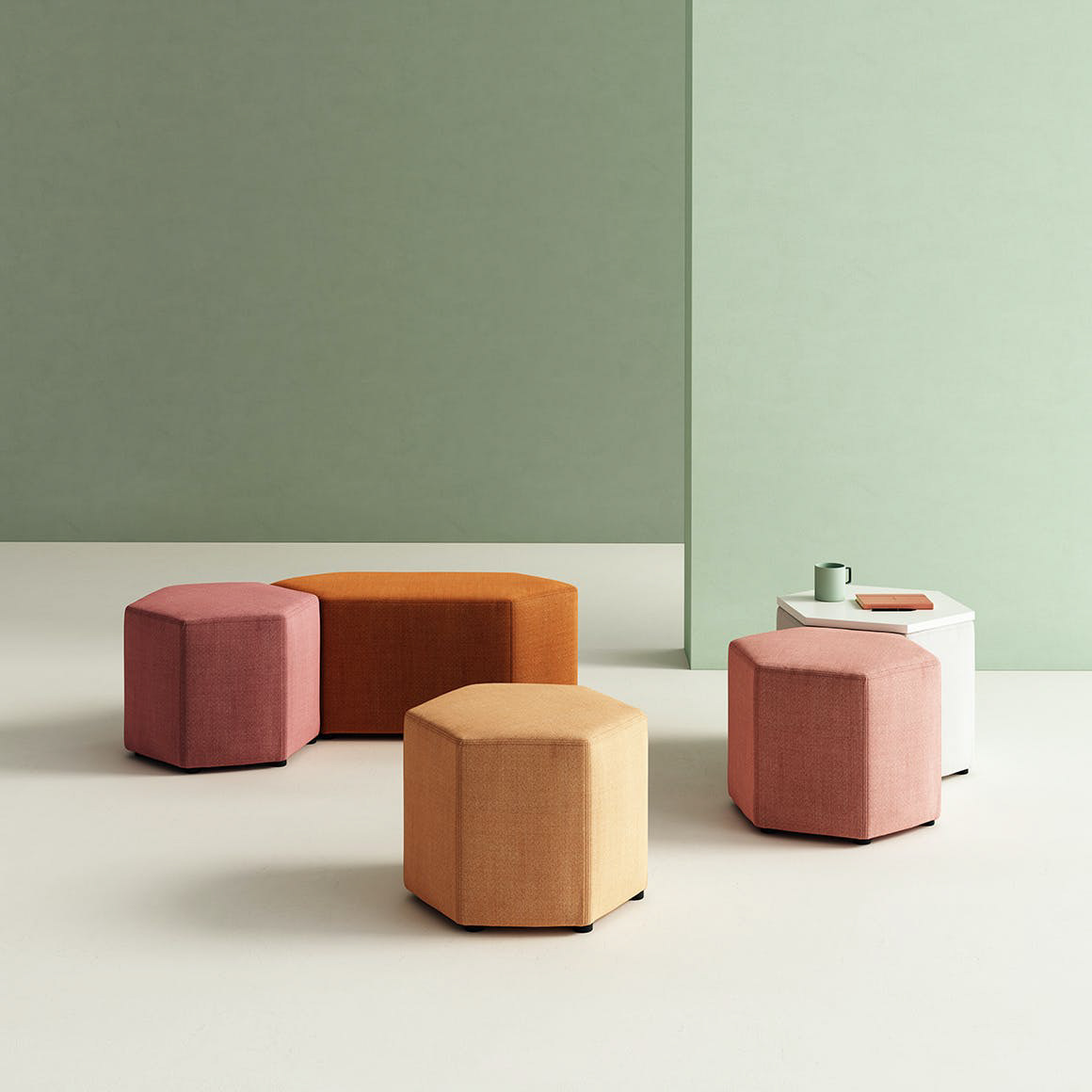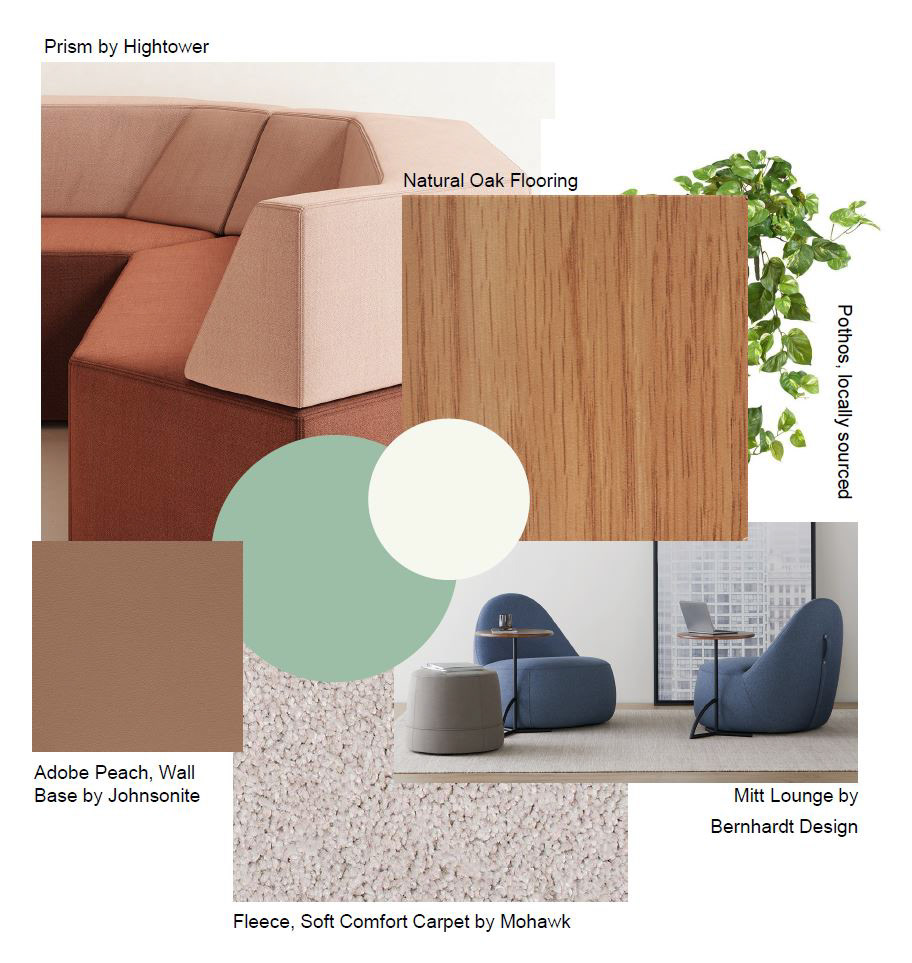 Inspired by the existing color palette on the fourth floor suites, a more subtle, muted, and earthy palette can breathe life into the existing space. 
Because of the lack of natural daylighting, these colors add liveliness to the space and create a more homey environment for teens to come together.
Research shows that when designing for teens, designers should consider a
spectrum of public to private spaces
. This diagram reflects this public to private spectrum to allow for a
gradual acoustic and activity transition
. Programming for the space, after client feedback, now includes a Tech Zone, Game Lounge, Snack Bar, Front Desk, Quiet Lounge and Zen Room.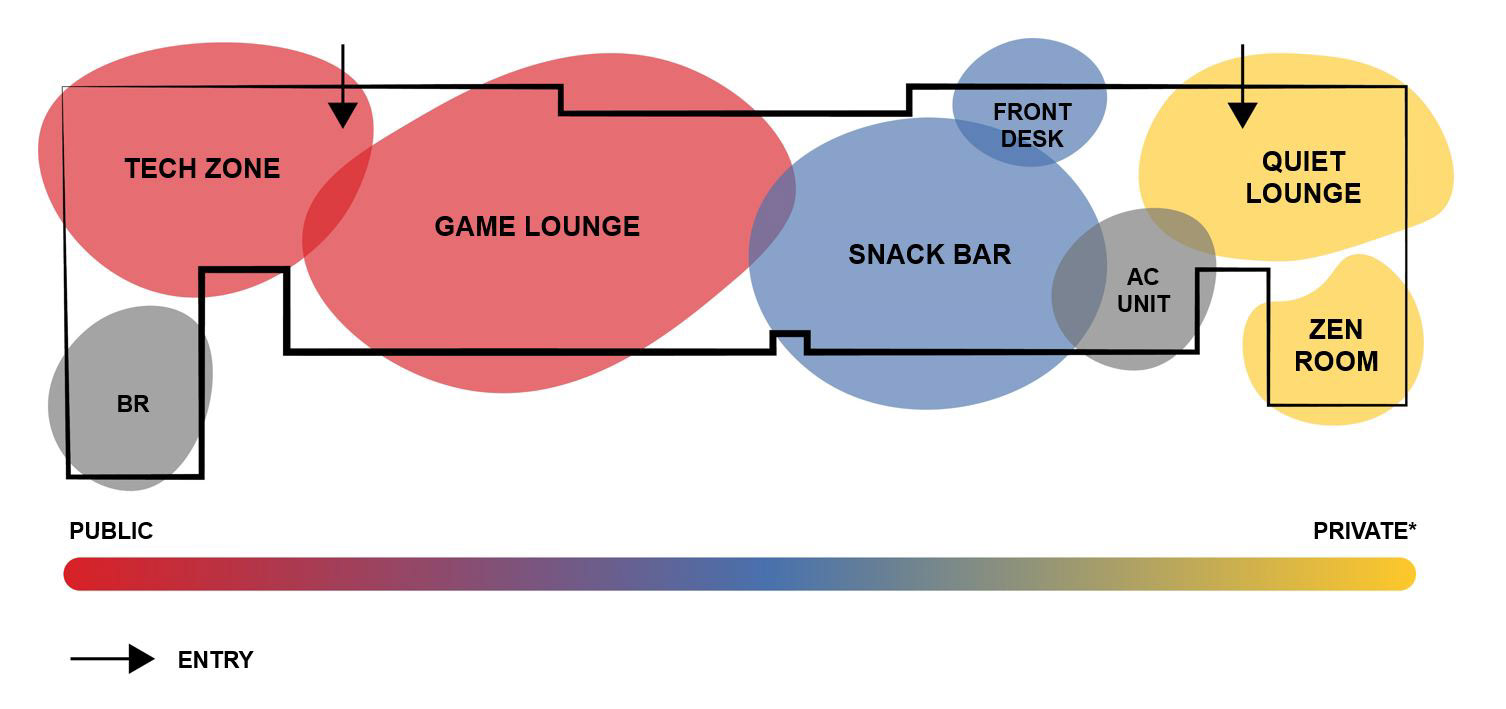 FLOORPLAN
WITH EVIDENCE-BASED DESIGN
Based on research and literature reviews, teens have preferences in the below categories that have been carefully considered and incorporated in the space. This allows teens to
enjoy and excel in a resourceful and supportive environment under staff supervision
.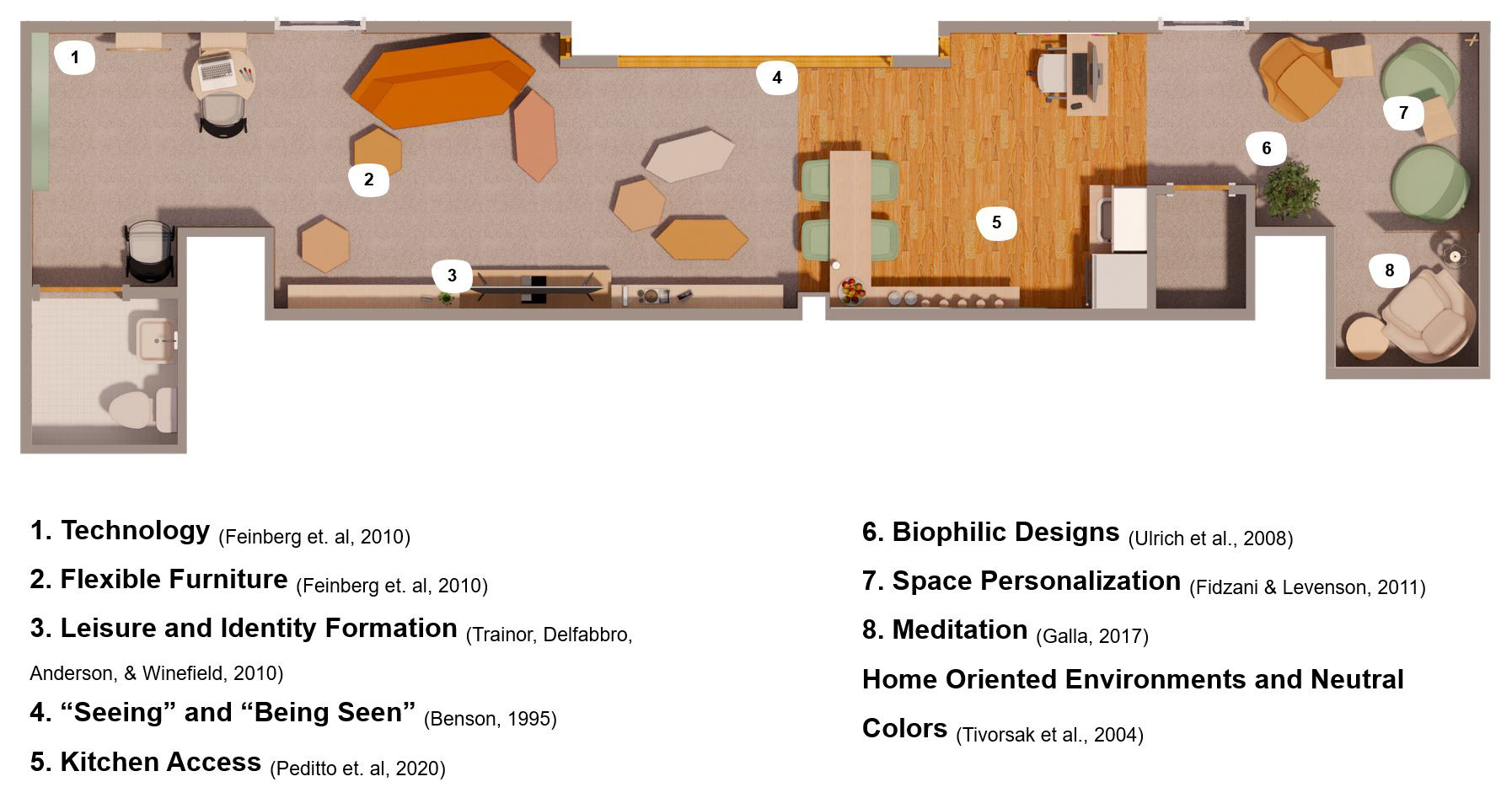 Because of how narrow the space is, the vertical real estate highlights specific features and amenities provided on the walls. For instance, added 
light fixtures serve as a decorative plant structure
 with
wall-mounted snack dispensers
at the Snack Bar. Other walls are dedicated to
teen personalization
with a
large viewing window at the heart of this space
.


From the elevators, this elevation shows the other side of the window. This exterior graphic combines both environmental graphic design with wayfinding. Primary colors are used to
align with Ronald McDonald House's colors with accent colors inspired by the NYC subway system
. These lines from the floor to ceiling, lead teens to peer through the glass window and enter the space. 

The Tech Zone provides rentable laptops, foldable tables, and stackable chairs for alternative programming in the space. Following the client's goals to provide
accessible technology
for fun and educational activities, this rentable laptop station allows teens to borrow a laptop and use it within the teenspace or to their suites.
Foldable tables help maximize the available corner space
in the case of group gatherings while offering the necessary desk space for those who wish to work individually.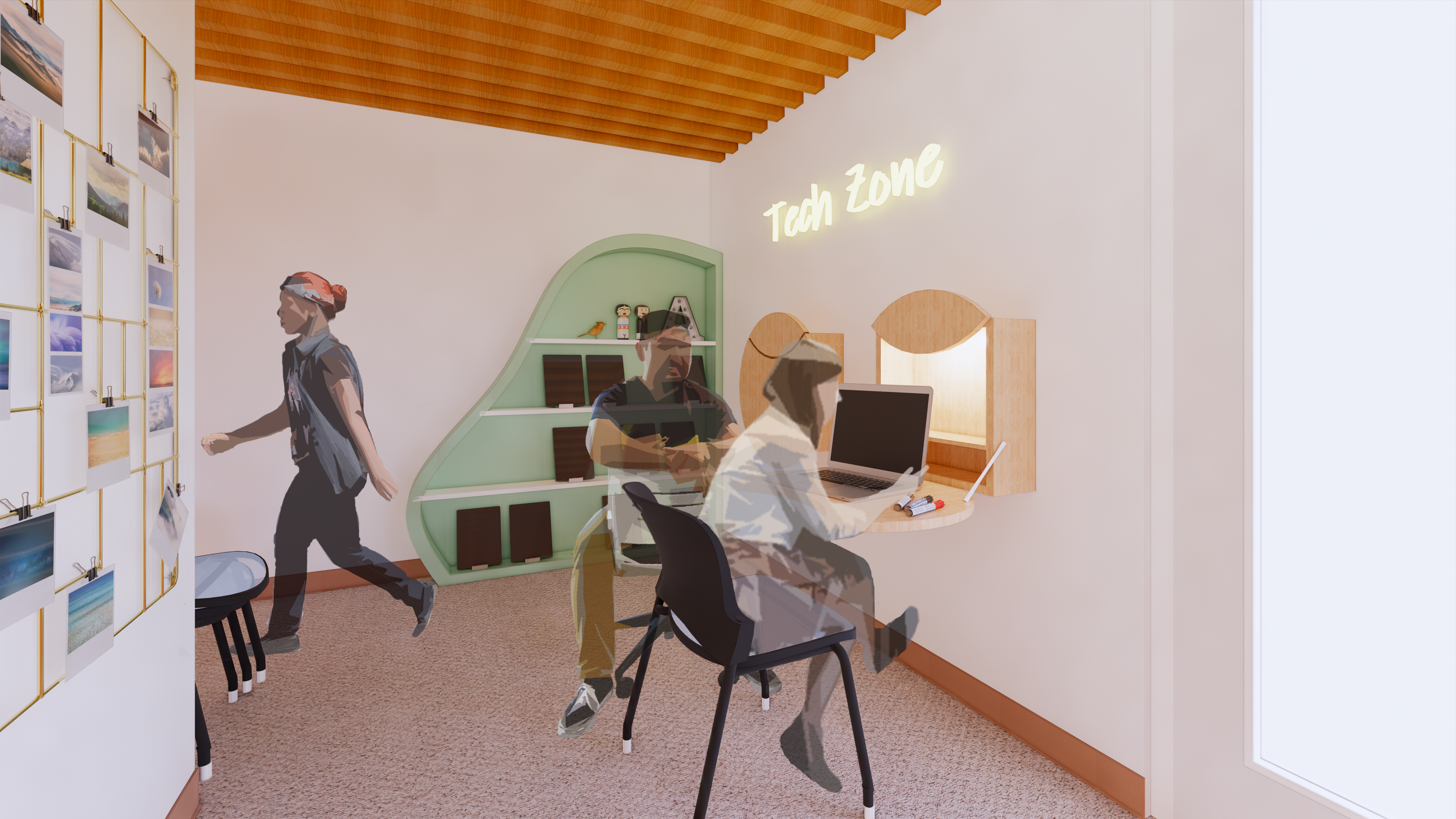 With the modular furniture system, the game lounge can be
seamlessly reconfigured
to accommodate a variety of teen programming. Headsets and game consoles are available for teen entertainment as additional
visualization opportunities
either together or apart in different setting types. Books and magazines are provided as another source of
educational entertainment
which can be taken to the quiet lounge to read or share with another peer. Hovering above the entertainment area are hexagon lighting and airplants to
bring some life and light into the space
, echoing the modular furniture shape.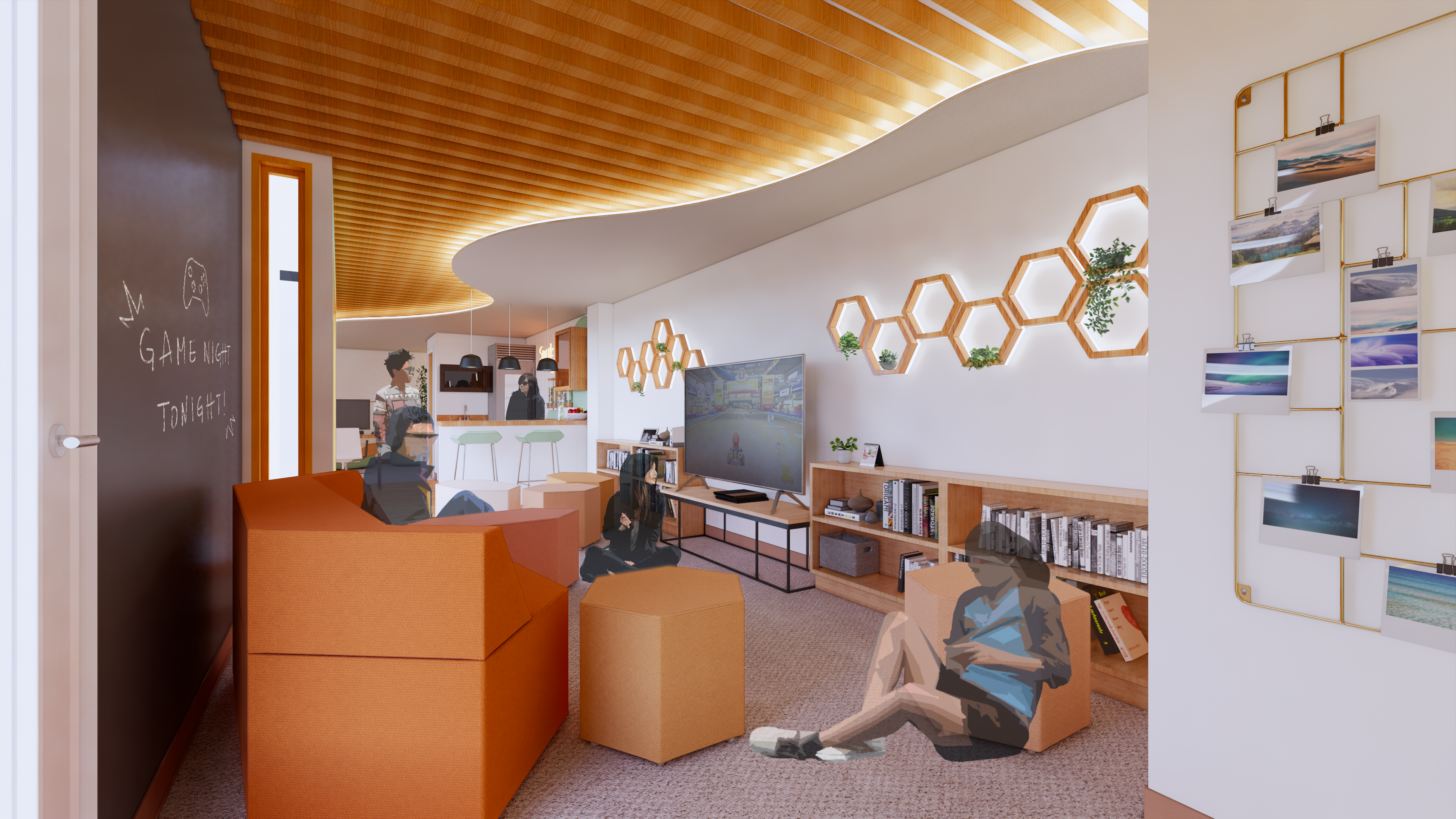 Featuring a suspended acoustic ceiling, the snack bar creates an
intimate setting for teens to bond over food and beverages
. Teens are free to engage in meaningful conversations by the bar table with a softened and cozy atmosphere.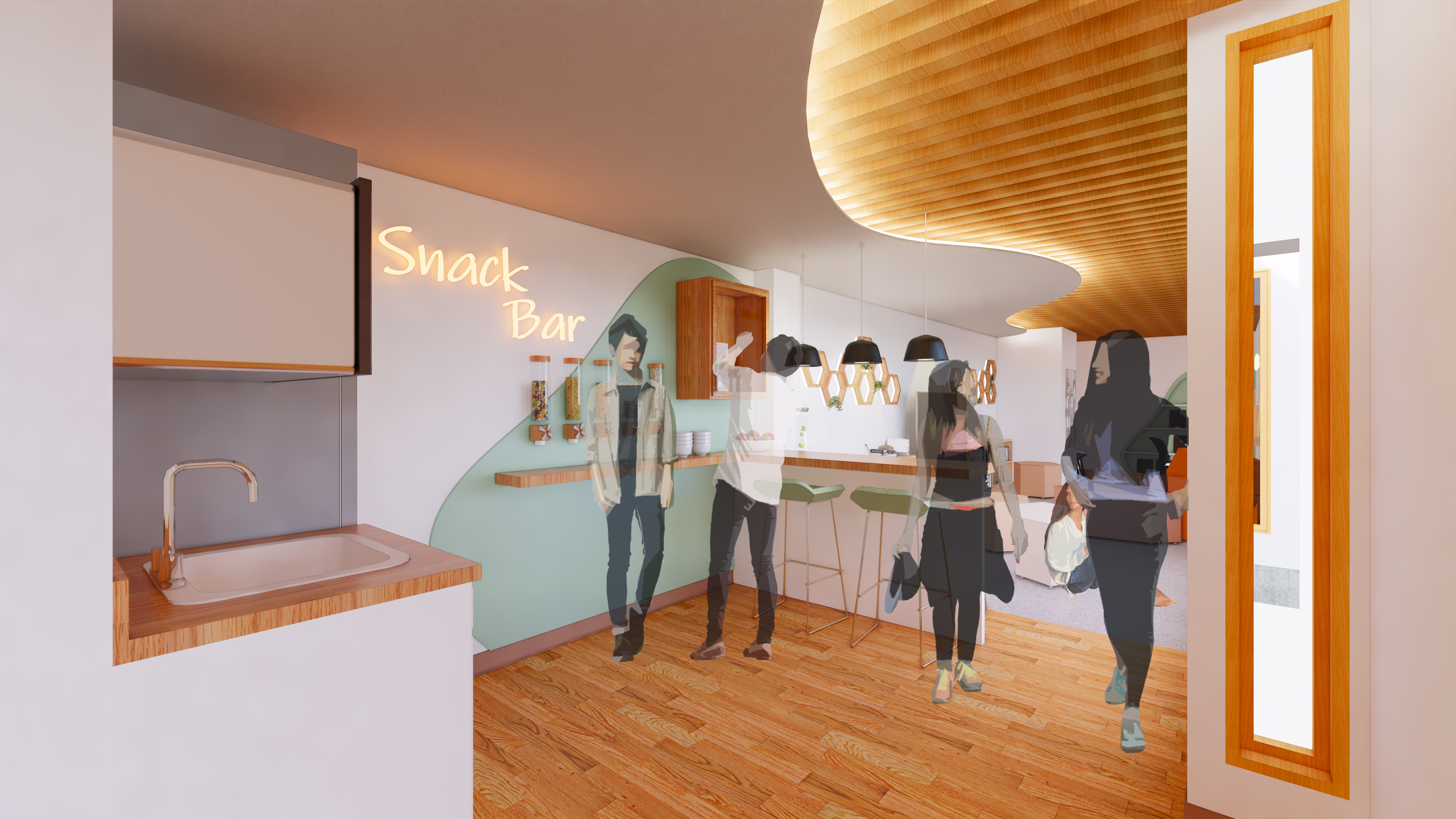 QUIET LOUNGE AND ZEN ROOM
On the opposite end are the Quiet Lounge and Zen Room, available for teens to relax in a
comforting atmosphere
. Acoustic panels and wall coverings are added for a more
ambient environment with some visual and sound partitioning
. The wall also has a whiteboard covering for teens to customize the space. Whether teens are using the board to solve math problems or doodle, the marks they leave are an
opportunity to reflect their personalities and identities.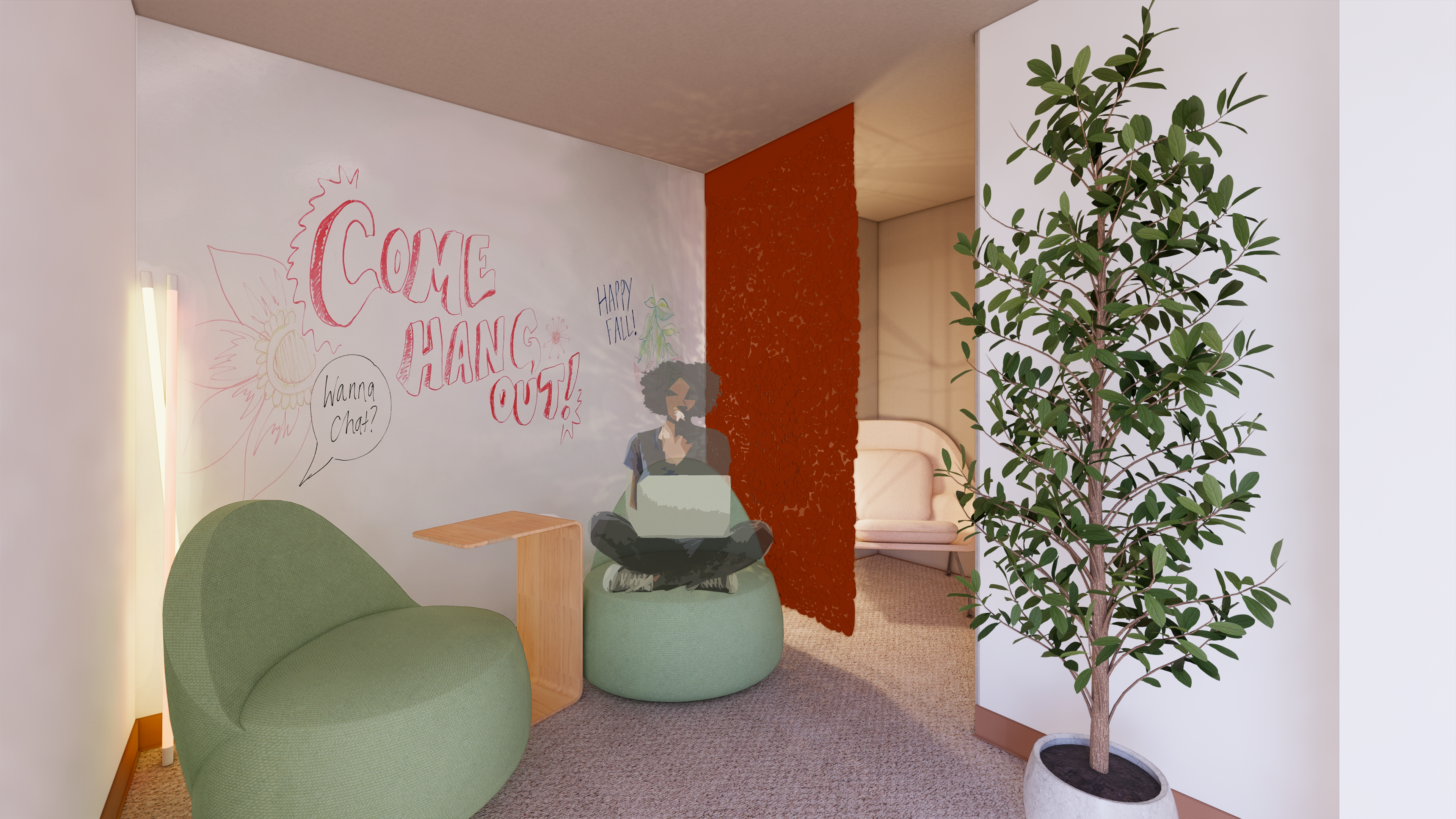 Dedicated to the teens, this multipurpose flex space is designed to encourage teen-to-teen interaction and accommodate all teen programming. Recommendations are informed by evidence-based design that allow teens to excel and grow in a nurturing and safe environment. 
Movie Night
: Watch a short film with complimentary popcorn in the lounge!

Study Hours
: Drop by open office hours for peer mentorship and open laptop rentals.

Plug and Play
: Join a friendly series of minigames on the switch during game night in the lounge!

Snackback
: Pick up some baked goods and refreshments from the snack bar.